MESSENGER#
The MESSENGER API (defined in gnunet_messenger_service.h) allows P2P applications built using GNUnet to communicate with specified kinds of messages in a group. It provides applications the ability to send and receive encrypted messages to any group of peers participating in GNUnet in a decentralized way ( without even knowing all peers's identities).
MESSENGER delivers messages to other peers in "rooms". A room uses a variable amount of CADET "channels" which will all be used for message distribution. Each channel can represent an outgoing connection opened by entering a room with GNUNET_MESSENGER_enter_room or an incoming connection if the room was opened before via GNUNET_MESSENGER_open_room.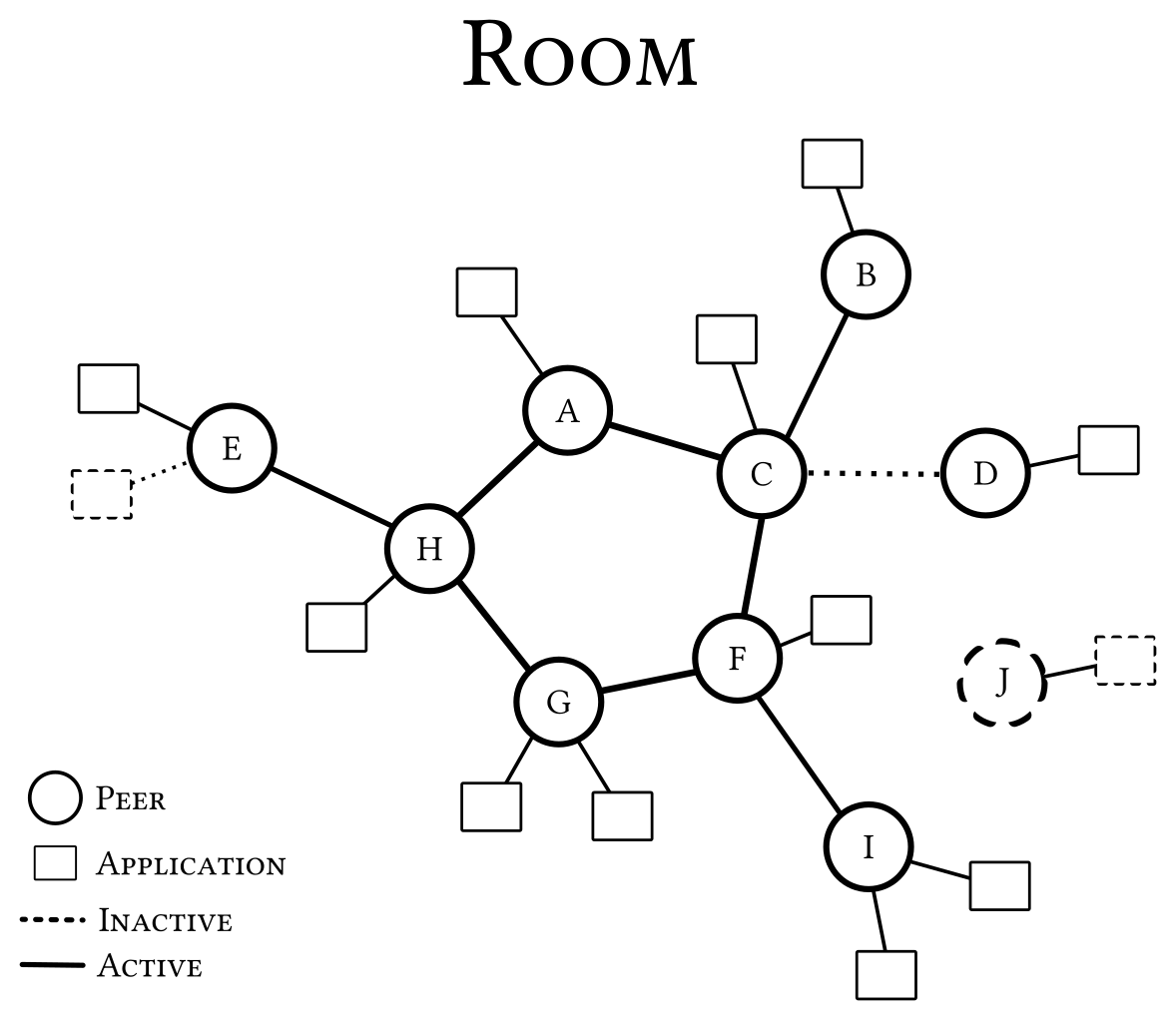 To enter a room you have to specify the "door" (peer's identity of a peer which has opened the room) and the key of the room (which is identical to a CADET "port"). To open a room you have to specify only the key to use. When opening a room you automatically distribute a PEER-message sharing your peer's identity in the room.
Entering or opening a room can also be combined in any order. In any case you will automatically get a unique member ID and send a JOIN-message notifying others about your entry and your public key derived from your selected private key.
The private key can be selected in combination with a name using GNUNET_MESSENGER_connect besides setting a (message-)callback which gets called every time a message gets sent or received in the room. Once the handle is initialized you can check your used key pair with GNUNET_MESSENGER_get_key providing only its public key. The function returns NULL if the anonymous key pair is used. If the key pair should be replaced with a different one, you can use GNUNET_MESSENGER_set_key to ensure proper chaining of used private keys.
This will automatically cause the handle to send a KEY-message which introduces the change of key pair to all other members in the rooms you have entered or opened. Your sessions will therefore stay valid while your old key pair gets replaced, signing the exchange.
Also once the handle is initialized you can check your current name with GNUNET_MESSENGER_get_name and potentially change or set a name via GNUNET_MESSENGER_set_name. Any change in name will automatically be distributed in all entered or opened rooms with a NAME-message.
In case you have adjusted your name separately in a specific room of choice by sending a NAME-message manually, that room will not be affected by the change of your handle's name.
To send a message a message inside of a room you can use GNUNET_MESSENGER_send_message. If you specify a selected contact as receiver, the message gets encrypted automatically and will be sent as PRIVATE- message instead.
To request a potentially missed message or to get a specific message after its original call of the message-callback, you can use GNUNET_MESSENGER_get_message. Additionally once a message was distributed to application level and the message-callback got called, you can get the contact respresenting a message's sender respectively with GNUNET_MESSENGER_get_sender. This allows getting name and the public key of any sender currently in use with GNUNET_MESSENGER_contact_get_name and GNUNET_MESSENGER_contact_get_key. It is also possible to iterate through all current members of a room with GNUNET_MESSENGER_iterate_members using a callback.
To leave a room you can use GNUNET_MESSENGER_close_room which will also close the rooms connections once all applications on the same peer have left the room. Leaving a room will also send a LEAVE-message closing a member session on all connected peers before any connection will be closed. Leaving a room is however not required for any application to keep your member session open between multiple sessions of the actual application.
Finally, when an application no longer wants to use CADET, it should call GNUNET_MESSENGER_disconnect. You don't have to explicitly close the used rooms or leave them.
Here is a little summary to the kinds of messages you can send manually:
NAME-messages can be used to change the name (or nick) of your identity inside a room. The selected name can differ from the identifier used to select your private key for signing and decrypting messages.